Suggested Readings
Colasanti J, Sumitani J, Mehta CC, et al. Open Forum Infect Dis. 2018;5(6):ofy104.
Cutrell AG, Schapiro JM, Perno CF, et al. AIDS. 2021;35(9):1333-1342.
Emu B, Fessel J, Schrader S, et al. N Engl J Med 2018;379(7):645-654.
Halperin J, Butler I, Conner K, et al. AIDS Patient Care STDS. 2018;32(2):39-41.
Hardy WD, Gulick RM, Mayer H, et al. J Acquir Immune Defic Syndr. 2010;55(5):558-564.
Lataillade M, Lalezari JP, Kozal M, et al. Lancet HIV. 2020;7(11):e740-e751.
Orkin C, Arasteh K, Górgolas Hernández-Mora M, et al. N Engl J Med. 2020;382(12):1124-1135.
Overton ET, Richmond G, Rizzardini G, et al. Lancet. 2021;396(10267):1994-2005.
Segal-Maurer S, DeJesus E, Stellbrink HJ, et al. N Engl J Med. 2022;386(19):1793-1803.
Sterman FL, Lalezari JP, Kowalczyk UM, et al. AIDS. 2023;37(7):1057-1064.
Swindells S, Andrade-Villanueva JF, Richmond GJ, et al. N Engl J Med. 2020;382(12):1112-1123.
Linked Resources
CLINICAL PRACTICE GUIDELINES
Gandhi RT, Bedimo R, Hoy JF, et al. JAMA. 2023;329(1):63-84.
New York State Department of Health AIDS Institute
US Department of Health and Human Services
CLINICIAN RESOURCES
Getting to Zero San Francisco
Stanford University
University of Liverpool
PATIENT AND CAREGIVER RESOURCES
NAM Publications
Centers for Disease Control and Prevention
National Institutes of Health
RELATED ACTIVITIES
This activity will focus on practical considerations for implementing preexposure prophylaxis (PrEP) services for HIV prevention in a pharmacy setting. Looking at PrEP access through a health equity lens, faculty will reflect on real-world patient perspectives and give strategies for how pharmacists can help efforts to end the HIV epidemic.
Pharmacists play an essential role in the initiative to end the HIV epidemic and, therefore, must stay up to date on guidelines and protocols for HIV preexposure and postexposure prophylaxis (PrEP and PEP, respectively). This comprehensive electronic/downloadable monograph was developed specifically to support the needs of pharmacists. Recently, the pharmacy scope of practice has expanded in a number of states in the US, and this continuing education activity provides the necessary clinical information for initiating and monitoring PrEP and PEP treatment in the pharmacy setting. This monograph provides the education pharmacists need to incorporate the Centers for Disease Control and Prevention (CDC) 2021 Updated PrEP Clinical Practice Guidelines into their daily practice. In addition, with 2.0 contact hour(s) (0.20 CEUs) from the Accreditation Council for Pharmacy Education, this monograph addresses all content necessary for pharmacists wishing to become PrEP and PEP providers in order to fulfill most state board of pharmacy training requirements.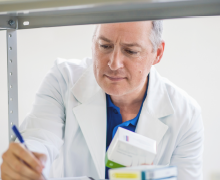 Emerging Issues in HIV Management
Answers to Pharmacists' Common Questions