Suggested Readings
Bosch B, Akpomiemie G, Chandiwana N, et al. Clin Infect Dis. 2022;ciac949.
Chaudhary K, Patel MM, Mehta PJ. Crit Rev Ther Drug Carrier Syst. 2019;36(2):137-181.
Christopoulos KA, Grochowski J, Mayorga-Munoz F, et al. Clin Infect Dis. 2022; ciac631.
Cutrell J, Jodlowski T, Bedimo R. Ther Adv Infectious Dis. 2020;7:2049936120901395.
Duncan AD, Goff LM, Peters BS. PLoS One. 2018;13(3):e0194199.
Imbert E, Hickey MD, Clemenzi-Allen A, et al. AIDS. 2021;35(8).
Mugavero MJ, Westfall AO, Cole SR, et al. Clin Infect Dis. 2014;59(10):1471-1479.
Neesgaard B, Greenberg L, Miró JM, et al. Lancet HIV. 2022;9(7):e474-e485.
Onu DU. AIDS Care. 2021;33(10):1335-1339.
Palefsky JM, Lee JY, Jay N, et al. N Engl J Med. 2022;386(24):2273-2282.
Paton NI, Musaazi J, Kityo C, et al. N Engl J Med. 2021;385(4):330-341.
Rodger AJ, Cambiano V, Bruun T, et al. Lancet. 2019;393(10189):2428-2438.
Sax PE, Erlandson KM, Lake JE, et al. Clin Infect Dis. 2020;71(6):1380-1390.
Shafran SD, Hughes CA. HIV Med. 2023;24(3):361-365.
Linked Resources
Additional Activities in HIV
Clinical Practice Guidelines
ElSayed NA, et al. Diabetes Care. 2023:45(Suppl 1):S1-S291.
Feinstein MJ, Hsue PY, Benjamin LA, et al. Circulation. 2019;140(2):e98-e124.
Gandhi RT, Bedimo R, Hoy JF, et al. JAMA. 2023;329(1):63-84.
New York State Department of Health AIDS Institute
US Department of Health and Human Services
Clinician Resources
American College of Cardiology.
Getting to Zero San Francisco.
Stanford University.
University of Washington.
Patient and Caregiver Resources
NAM Publications
Centers for Disease Control and Prevention
National Institutes of Health
National Minority AIDS Council.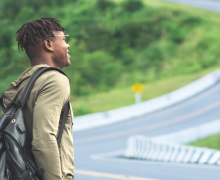 The HIV Journey
Staying the Course Through Critical Junctions in Care