Meeting slides
Interactive presentation
What does an allergist need to know about gastrointestinal presentations in nonadvanced SM and when to perform an endoscopy?
Matthew J. Hamilton, MD
Interactive presentation
What does an allergist need to know about when to involve dermatology colleagues and the significance of the multidisciplinary team?
Lauren M. Madigan, MD
Suggested Readings
Boggs NA, Sun X, Lyons JJ, et al. Blood Adv. 2023;7(13):3150-3154.
Giannetti MP, Akin C, Hufdhi R, et al. J Allergy Clin Immunol. 2021;147(4):1497-1501.e1.
Gotlib J, Castells M, Elberink HO, et al. NEJM Evid. 2023;2(6):EVIDoa2200339.
Jennings SV, Slee VM, Zack RM, et al. Immunol Allergy Clin North Am. 2018;38(3):505-525.
Pardanani A. Am J Hematol. 2023;98(7):1097-1116.
Theoharides TC, Valent P, Akin C. N Engl J Med. 2015;373(2):163-172.
Valent P, Hartmann K, Schwaab J, et al. J Allergy Clin Immunol. 2022;10(8):1999-2012.e1996.
Zanotti R, Tanasi I, Crosera L, et al. Mediterr J Hematol Infect Dis. 2021;13(1):e2021068.
Clinical Guidelines
Arber DA, Orazi A, Hasserjian RP, et al. Blood. 2022;140(11):1200-1228.
Khoury JD, Solary E, Abla O, et al. Leukemia. 2022;36(7):1703-1719.
National Comprehensive Cancer Network.
Patient Resources
TMS is dedicated to providing multifaceted support to patients, families, and medical professionals in the community and to leading the advancement of knowledge and research in mast cell diseases through education, advocacy, and collaboration.
The goal of the ECNM is to improve disease-recognition, diagnosis, and therapy in patients with mastocytosis in Europe.
NORD is a patient advocacy organization committed to the identification, treatment, and cure of rare disorders through programs of education, advocacy, research, and patient services.
Linked Resources
CME Opportunity
In this Phone-a-Friend series, a multidisciplinary panel of faculty experts will address the importance of high-sensitivity assays to detect the KIT D816V mutation that is responsible for most cases of nonadvanced SM, the recently updated World Health Organization diagnostic criteria, the various triggers of mast cell activation, symptom assessment techniques, and patient education. The faculty will also discuss individualization of symptom-directed treatment strategies, evolving treatment options, and newly approved targeted therapies for the treatment of nonadvanced SM.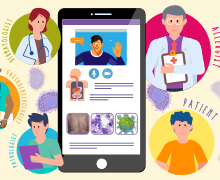 Answering the Call in Nonadvanced Systemic Mastocytosis
Targeted Approaches to Patient Management