Suggested Readings
eReader Download
Apple Books | Amazon | Barnes & Noble | Google Play | Rakuten Kobo
Aboud M, Kaplan R, Lombaard J, et al. Lancet Infect Dis. 2019;19(3):253-264.
Ambrosioni J, Rojas Liévano J, Berrocal L, et al. J Antimicrob Chemother. 2022;77(4):1133-1139.
Bajema KL, Nance RM, Delaney JAC, et al; Centers for AIDS Research Clinical Network of Integrated Systems (CNICS). AIDS. 2020;34(14):2051-2059.
Boyd MA, Kumarasamy N, Moore CL, et al; SECOND-LINE Study Group. Lancet. 2013;381(9883):2091-2099.
Cutrell J, Jodlowski T, Bedimo R. Ther Adv Infectious Dis. 2020;7:2049936120901395.
Dvory-Sobol H, Shaik N, Callebaut C, Rhee MS. Curr Opin HIV AIDS. 2022;17(1):15-21.
Emu B, Fessel J, Schrader S, et al. N Engl J Med. 2018;379(7):645-654.
Lataillade M, Lalezari JP, Kozal M, et al. Lancet HIV. 2020;7(11):e740-e751.
Mazzitelli M, Sasset L, Leoni D, Putaggio C, Cattelan AM. Medicine (Baltimore). 2021;100(52):e28488.
Ogbuagu O, Segal-Maurer S, Brinson C, et al. Presented at: Conference on Retroviruses and Opportunistic Infections; February 12-16, 2022; virtual conference. Abstract 491.
Segal-Maurer S, Castagna A, Berhe M, et al. CROI. March 6-10, 2021; Virtual Conference. Abstract 127.
Wei X, Liang C, Götte M, Wainberg MA. AIDS. 2002;16(18):2391-2398.
Vizcarra P, Fontecha M, Monsalvo M, Vivancos MJ, Rojo A, Casado JL. Antivir Ther. 2019;24(6):467-471.
Linked Resources
Clinical Practice Guidelines
EACS Guidelines 2021; v11.0; October 2021.
Günthard HF, Calvez V, Paredes R, et al. Clin Infect Dis. 2019;68(2):177-187.
US Department of Health and Human Services
Clinician Resources
New York State Department of Health AIDS Institute.
Stanford University.
World Health Organization.
Patient and Caregiver Resources
NAM Publications
Centers for Disease Control and Prevention
National Institutes of Health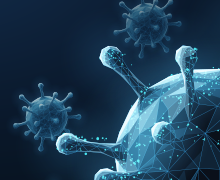 eHealthSource
1.00 CME/CE
Virologic Failure in HIV
An Updated Clinician's Guide to Assessment and Management