Meeting slides
Suggested Readings
Academy of Managed Care Pharmacy.
Chaudhary K, Patel MM, Mehta PJ. Crit Rev Ther Drug Carrier Syst. 2019;36(2):137-181.
McGowan JP, Fine SM, Vail RM, et al. Baltimore (MD): Johns Hopkins University; 2022.
Gupta SK, Sims J, Brinson C, et al. Conference on Retroviruses and Opportunistic Infection. February 12-16, 2022. Abstract 138.
Johnson K, Sawkin MT. Drugs Context. 2022;11:2021-9-2.
Little J, Ortega M, Powell M, Hamm M. Am J Health Syst Pharm. 2019;76(4):251-253.
Llibre JM, Hung CC, Brinson C, et al. Lancet. 2018;391(10123):839-849.
Orkin C, Arasteh K, Górgolas Hernández-Mora M, et al. N Engl J Med. 2020;382(12):1124-1135.
Overton ET, Richmond G, Rizzardini G, et al. Lancet. 2021;396(10267):1994-2005.
Segal-Maurer S, DeJesus E, Stellbrink HJ, et al. N Engl J Med. 2022;386(19):1793-1803.
Swindells S, Andrade-Villanueva JF, Richmond GJ, et al. N Engl J Med. 2020;382(12):1112-1123.
Vachiat A, McCutcheon K, Tsabedze N, et al. J Am Coll Cardiol. 2017;69(1):73-82.
van Wyk J, Ajana F, Bisshop F, et al. Clin Infect Dis. 2020;71(8):1920-1929.
Linked Resources
Clinical Practice Guidelines
Saag MS, Gandhi RT, Hoy JF, et al. JAMA. 2020;324(16):1651-1669.
US Department of Health and Human Services
Patient and Caregiver Resources
NAM Publications
Centers for Disease Control and Prevention
HIV Resources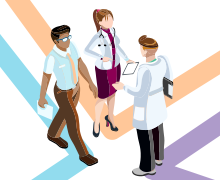 Applying HIV Advances in Practice
What the Pharmacist Needs to Know
| | |
| --- | --- |
| Faculty: | Melissa Badowski, PharmD, MPH, FCCP, BCIDP, BCPS; Jennifer Cocohoba, PharmD, MAS |
| Release: | 09/15/2022 |
| Expiration: | 09/15/2023 |