Meeting slides
Suggested Readings
Dougan M, Azizad M, Chen P, et al. medRxiv. 2022. [Epub ahead of print]
Lopez L III, Hart LH III, Katz MH. JAMA. 2021;325(8):719-720.
Hammond J, Leister-Tebbe H, Gardner A, et al. N Engl J Med. 2022;386(15):1397-1408.
Jayk Bernal A, Gomes da Silva MM, Musungaie DB, et al. N Engl J Med. 2022;386(6):509-520.
Takashita E, Yamayoshi S, Simon V, et al. N Engl J Med. 2022;387(5):468-470.
Wiltz JL, Feehan AK, Molinari NM, et al. MMWR Morb Mortal Wkly Rep. 2022;71(3):96-102.
Linked Resources
Clinical Practice Guidelines
National Institutes of Health (NIH).
Clinician Resources
Centers for Disease Control and Prevention.
Department of Health and Human Services (DHHS).
DHHS.
US Food and Drug Administration (FDA).
FDA.
FDA.
FDA.
NIH.
Patient Resources
DHHS.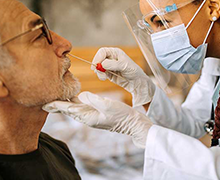 Are You Up to Date on COVID-19 Diagnosis and Treatment Guidelines?
Test Your Mastery!